Static VAR compensator (SVC)
SVC for Industries
SVC for Industries
Static Var Compensator / Static Var Compensation
Technical Principle
SVC is applied in industrial power load management to solve power quality problems caused by the large power loads in electric arc furnaces, rolling mills, coal mine machinery. Port machinery, and petrochemical machinery.
Electric arc furnace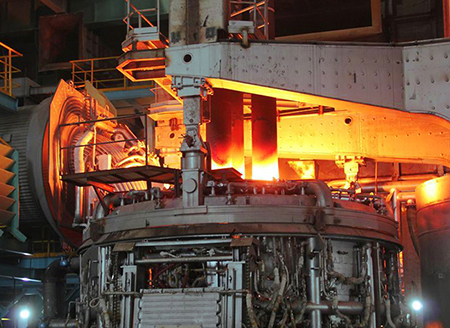 Utilizing a non-linear and irregular load, electric arc furnaces can cause a series of adverse effects to the power grid once they are connected.
Rongxin SVC system can respond within 10ms, meeting strict technical requirements to provide reactive current to the furnace, stabilize the busbar grid voltage, and increase the active power output for metallurgical applications. This enhances production efficiency and minimizes the impact of flickers. With a split-phase compensation function, the SVC can eliminate 3-phase imbalance caused by the electric arc furnace. The filter can eliminate harmful ultraharmonics and provide capacitive reactive power to increase the overall power factor.
Electric arc furnaces operate under large power impacting industrial load. They cannot operate normally in power grids without proper compensation equipment. The main power quality problems include:
Low power factor, which may cause reactive power penalty in a large sum
Large harmonic
Voltage fluctuation, flickering
3-phase voltage unbalance
SVC can provide quick compensation for reactive power fluctuation of the load by controlling the thyristor current to solve the above-stated power quality problems and meet the power quality requirements of the power grid for the load.
Thyristor controlled reactors (TCR) + Harmonic filters (FC )

Thyristor controlled reactors (TCR) + Harmonic filters (FC )
we are engaged in the design and manufacturing of power compensation equipment and high-power power electronic equipment. Our full line of products can meet the needs of numerous applications from power generation, transmission, and distribution to terminal loads, providing solutions for customers in terms of improving power quality, optimizing control and increasing energy efficiency. We supply power quality solutions (SVC, SVG, SC) to customers all around the world.