Static VAR compensator (SVC)
SVC for Industries
SVC for Industries
Static Var Compensator / Static Var Compensation
SVC—Thailand TY Steel Plant SVC
Customer Needs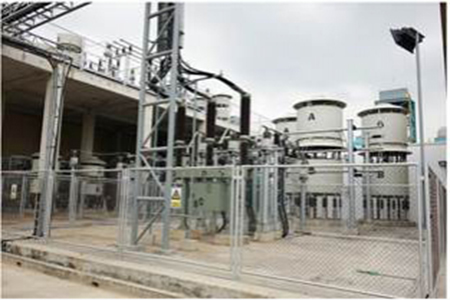 TY Steel Co. Ltd is one of the major steel plants in in Thailand. They meet domestic steel demands but also cover the Southeast Asian Market. In order to fulfill the booming market requirements, TY Steel initiated an expansion project to install one extra EAF (55MVA + 20% overload) along with one extra LF (12MVA) to double its productivity.These new loads will be powered by a new 115kV/35kV power transformer rated at 80MVA.Although EAF is a good way to manufacture high quality steels. However, it brings multiple power quality problems into the power system to the plant, such as low power factor, high harmonics voltage fluctuation flicker and unbalances.
RXPE Solution
After a careful system examination, RXPE proposed a 95Mvar SVC at TY Steel to solve these problems. It was rated as -5Mvar (ind) to +90Mvar (cap). Four filter branches, 2nd/3rd/4th/5th had been designed considering of the harmonic distortion characteristics of both EAF/LF and the TCR branch. AII these branches are connected at the same 35kV busbar with the furnaces.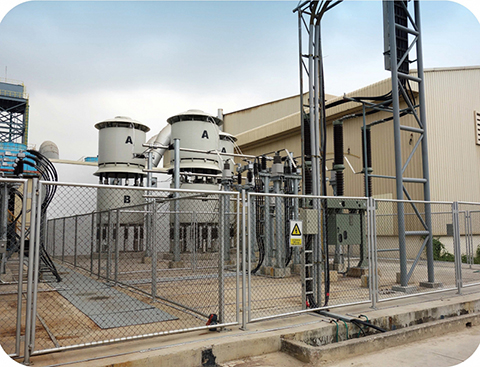 Although designed well, customer told that there were unfortunately not sufficient lands for the normal SVC designs. RXPE then carefully investigated the site available lands and finally proposed a double-Iayer SVC layout for TY Steel, with TCR/2nd/3rd FC branches located at the first floor (ground) while the 4th/5th FC filter branches at the second floor (roof). The semi-open building was carefully designed with enough height and special structure considerations to avoid electric-magnetic heating of the steel bars inside the constructions.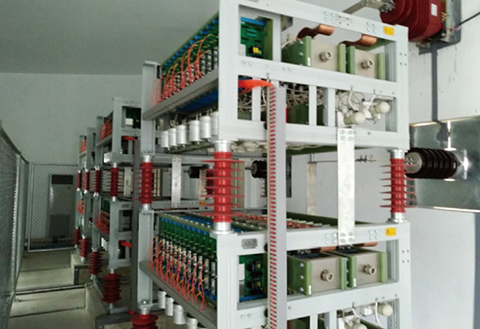 ETT thyristor valves were used in the TCR branch with water/water cooling method. RXPE-11A control and protection system had been equipped with our patent compensation algorithm (combined close- and open-loop controls) implementing high-speed and accurate compensation.
Customer Benefit
TY Steel Plant SVC was commissioned in the year 2017. With this SVC installation in service, TY Steel had successfully increased their productivity by the new furnaces, meanwhile fully complied with Thai power quality requirements.
we are engaged in the design and manufacturing of power compensation equipment and high-power power electronic equipment. Our full line of products can meet the needs of numerous applications from power generation, transmission, and distribution to terminal loads, providing solutions for customers in terms of improving power quality, optimizing control and increasing energy efficiency. We supply power quality solutions (SVC, SVG, SC) to customers all around the world.